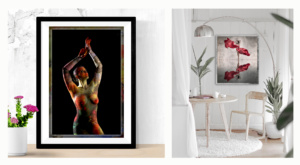 We Create Custom Art From Concept to Finished Piece.
We create custom art for your walls or custom fine art albums for your coffee table. We work with you from concept to finished gallery quality printed creation. We offer metal, acrylic, canvas, classic framed prints, as well as custom albums.
Let's Talk!
First give us a call, send us an email or you can chat with us on Fetlife. Let us know what you are looking for and see if we are the right fit for each other.
Planning Your Art
Once we have determined that we are indeed a right fit, the planning begins. The next step is a design consultation. This is where will figure out what your style is. We can meet for a cup of coffee and discuss details for the look of your session.
In the design consultation we will go over:

Clothing options

Make up

Hair

Props


Feel of the images: light, dark and moody, bright and colorful, black and white etc.
If there are specific pieces of art you are wanting we will make sure that we photograph with the right orientation in mind.
Session Time
Next will be your photography sitting. Now I know a lot of people get nervous in front of the camera, but keep in mind we will take a gazillion images and hand pick just the very best. So don't worry if you blinked in a picture or if you felt like you were making a fumy face, those do not make it into the final selection. Sometimes we have multiple outfit changes and sometimes not, it really depends on what look we have decided on.
Feel free to bring a friend with you if you like but please keep it to no more than 2 people and no children. While you are at the studio there will be drinks and snacks to take advantage of, but if you have specific needs you can always bring anything extra you would like.
The Reveal
In about 1-2 weeks you will come back in for another delicious cup of cocoa or coffee and spend some time choosing your images and products. Please bring ALL the decision makers for this process. This is an adults only time. So pick a time you can have someone watching the little ones and enjoy some coffee and picking out your images.
The Art Has Arrived
The products can take up to 8 weeks to come in. Once they are in and they meet my standards you can either come on by the studio and pick them up or I can deliver them to your home. All of the work you will receive is gallery quality art and meant to last you a lifetime. We offer Acrylic, Metal, Canvas, Classic Framed Images as well as Photo Albums.
Available Prints
Want prints of what you see on the site?
Many of the images on the site are available as prints. Just let us know what you like and we can let you know if it is available.
Photographer@BokehBabe.com